T

eaching the Teacher to Teach the Tough-to-teach
 

Bold? You bet! 

Did it work?

Read on!
---
The Case Study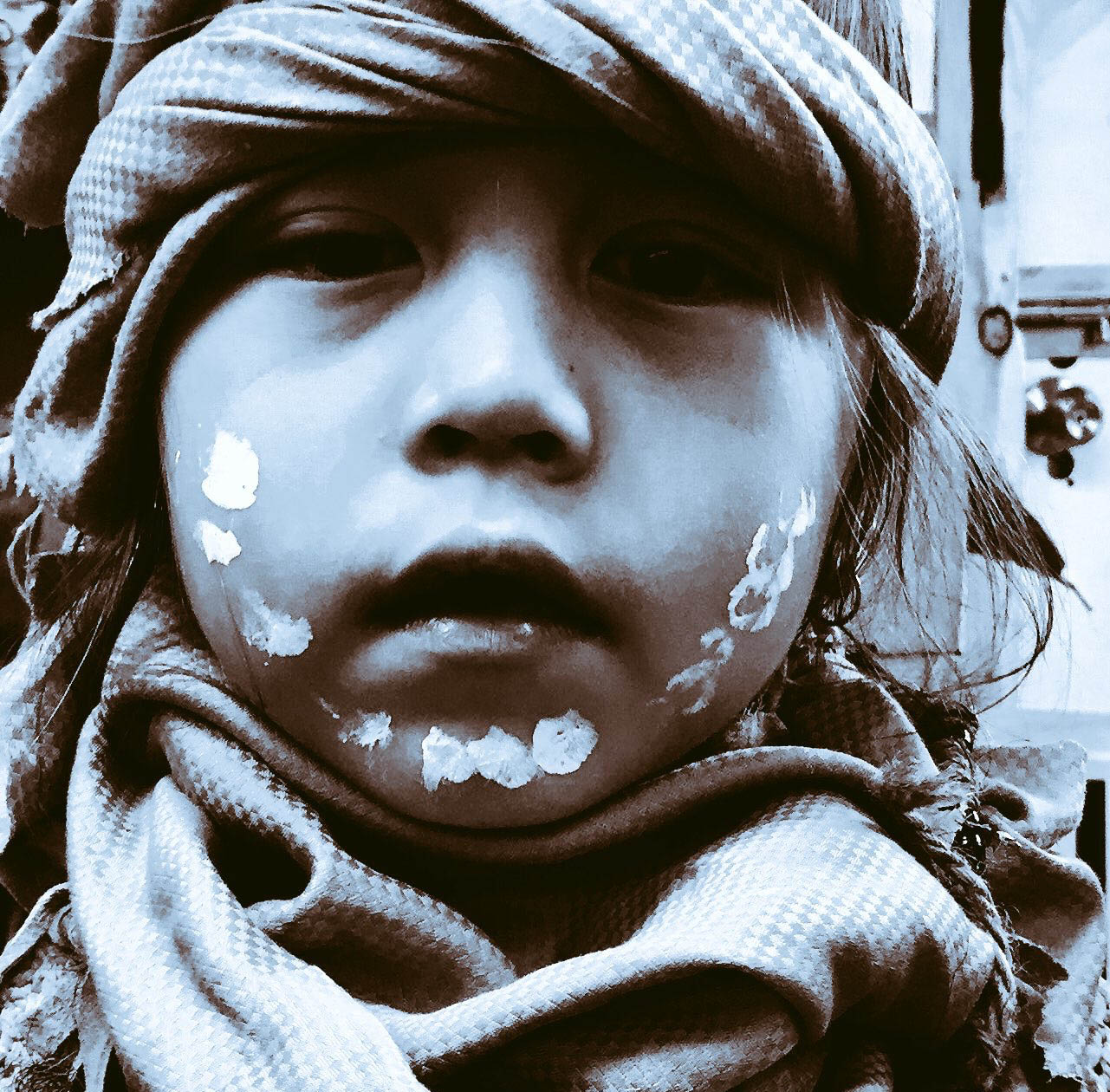 Adam Palmer never taught a high school film class before. He never made a film beyond his hobby passion projects.  And his students, grades 7 to 12, have been judged by many as 'unteachable.'
By Stavros C. Stavrides
The Class Film Trailer
The Teacher
Adam runs a youth inclusion program at a First Nations community school in Agassiz, British Columbia, ninety minutes west of Vancouver.
The career youth counsellor and teacher integrates 'Alternative Ed' teens into the high school environment at STS'Ailes ('Chehalis') First Nations community, where his students work their own pace within the school's mainstream curriculum.  Adam's job is to keep them in school and out of the hands of the authorities.
Adam works alongside English teacher Kevin Walsh, who offers extra marks for the script portion of the film program. The school's IT officer Mark Balfour admits,  "Some of these kids are tough as nails."

Why a Film Class
Neither of these educators has taught film before. Adam is an Outdoor and Wilderness Education Teacher, involving his students in rigorous outdoor activities to foster teamwork, a sense of achievement and self worth. 
"But not all of these kids are built for climbing and caving," he admits. "There are the creative ones – the thinkers and the reflective among the bunch who would rather observe the doers. Getting them to participate was a bit of a push."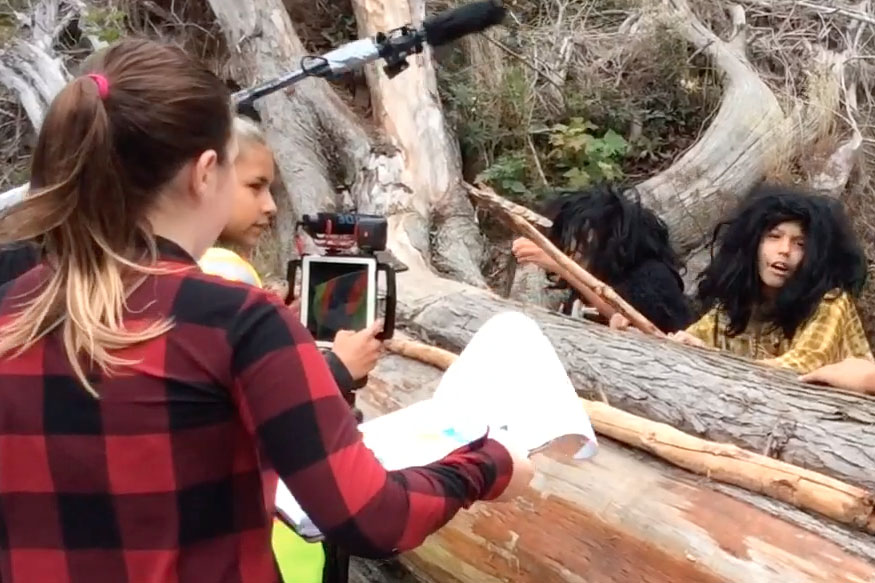 On expeditions, however, despite their differences, Adam noticed a common thread that bound the group. The students took snapshots, recorded video, and shared equally with each other.  They all enjoyed a common interest, even if for moments at a time.
Adam, already a video enthusiast, produced a class video project in 2013. "A lot of home-movie point and shoot. Not much film craft to it, and it didn't get screened much.  But it did bind the group in a new way," he says.
Backed by little more than his own passion for the subject and the eagerness of his students, Adam gave me a call last winter.
"I want to start a film course at my school," he said. "Can I use your iPad program to do this?"
"Of course", I replied confidently, even though we were still in its experimental phase. "But you'll need to follow each chapter and do the exercises. If you do this, you will learn to 'speak' a new language – a visual language, and so will your kids."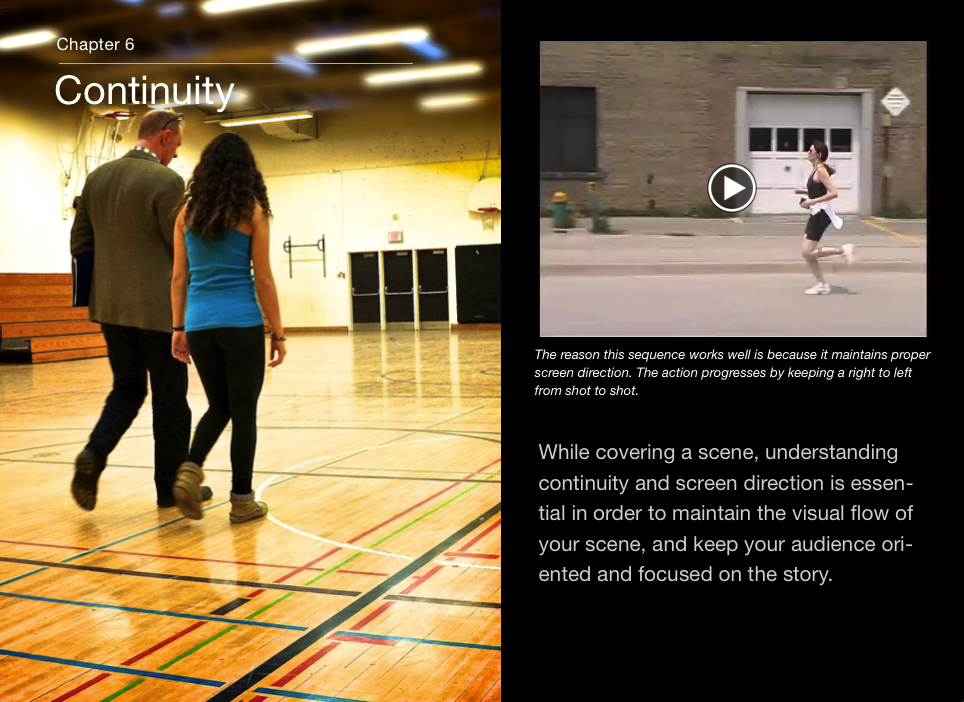 Introduction page for Cyber Film School's Continuity Chapter.
Secretly, though, I was already wondering how the heck we'd get the project finished in time for this challenge. If we could motivate these kids, as we know filmmaking can, it would be worth advancing the launch. 
As many tech entrepreneurs advise, "Just launch it. Get feedback. Launch it again. Repeat."  I hoped they were right.
Getting Started
Adam was already thinking of the capital outlay he would need to start a film course for his high school students.
"Does your school have iPads?" I asked.
"Yes," he replied.
"Then you're ready."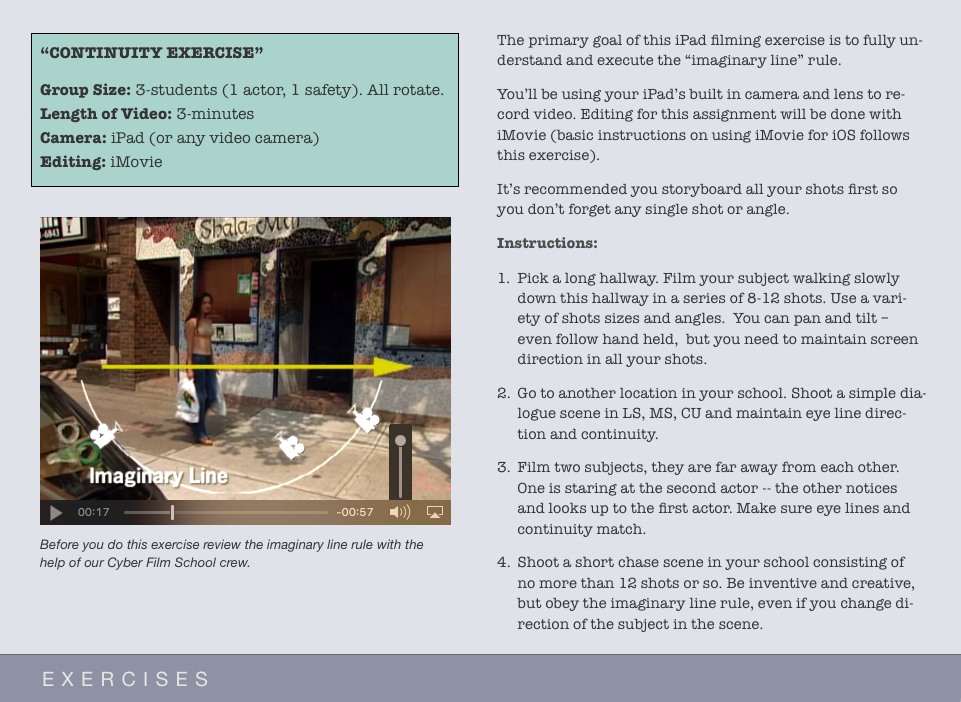 Continuity exercise page features a 'how to' video on screen direction from a film set.
The topics and exercises are not unlike the way we learned and practiced the basics in a first year university film program.
Only back in those analogue days, we had a lot of costly gear to access, learn and navigate. Today, we are freed up to learn, practice and apply the very core of film language right on the iPad instantly. Every chapter of the multi-touch textbook ends with an exercise, which can be shot, edited and shared on just one device.
Adam downloaded his own copy through his Apple iTunes account. Once he was satisfied, he made a volume purchase through the school, one for each of his twelve students.
Adam opted to buy a kit from a third party which outfits an iPad with additional lenses, lights and microphones, for under $300. The holder itself helps mount the iPad to a tripod.
 His chosen teaching routine is to study the week's chapter and try the exercise himself right on the iPad. Adam gets on-going support from my filmmaker/teacher colleagues and myself.
At class time he goes through the chapter with his students. "I basically learn about the process as I relay the information," he says. "We are all learning."
Because he is limited to two hours and forty minutes over two classes per week, Adam projects the iBook's content – video clips, interviews, galleries, and diagrams and onto a large screen. He then conducts the chapter's exercises as a group, as opposed to each student doing their own.
Community Impact

 
Three months into his program,  Adam's film class has not only enhanced the lives of his students, but the vibrancy of their entire community as well.
As a First Nations school, its curriculum incorporates Aboriginal culture. The common class film project, beyond the basic Cyber Film School exercises, is an ancient legend retold through the lens.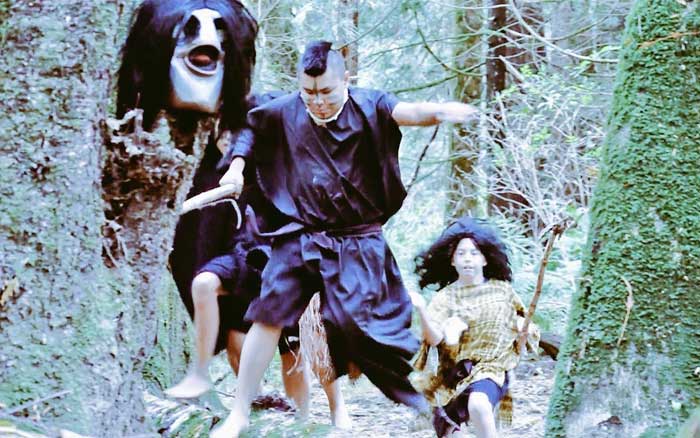 The class recruited Native elders including Rocky LaRock who acts as cultural advisor. He helps with carvings, costumes, props, stories, and legends.
Others help with the design and sewing of period costumes and jewelry for the production. Young children and adults are recruited as actors.  In a community of 450, a dozen teens can impact the entire population.
I can only imagine that when bedtime arrives, these teens go to sleep dreaming of tomorrow's next adventure, then wake up as esteemed storytellers – not only for their own community, but also as messengers of their culture to the world that surrounds them.
Diverse Learners
"It's a unique place", says Adam. "Everyone comes onto this 'unequal' playing field we call school. Mark, Brian and I approach Cyber Film School with our varied skills and backgrounds, and learn along with these kids. This film program is a big equalizer. We have kids with good English skills, others with tech skills, some with people skills.  Each contributes his natural ability to support the other in a shared project with a common goal they all relate to."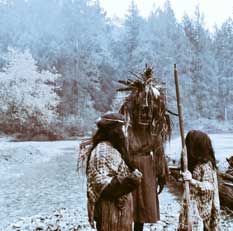 In Adam's Cyber Film School class, linear and abstract thinkers play off each other.  Their individual strengths surface. The technical and the creative cooperate to get it done. And the communications skills they acquire help bolster the English credit associated with this program. "That's how we get this job done", says Adam. "In terms of accomplishment and esteem building, I have never seen this anywhere else outside of a sports team. Until now."
On the day we last spoke, Adam had his students hiking and exploring a cave. Adam stopped to take some personal video for himself. One of his students jumped in and suggested some camera angles for more effective coverage – the guy wants to half-bury the camera looking out from the cave, peeking just above the dirt.  
Adam, just about to reply to the student, "But this just my personal video", held back the comment. He has learned to take direction from his students. Today, his students call the shots. 
Next Edition
As for our team and myself back at Cyber Film School we raced Edition One of Cyber Film School for iPad to market just in time for Adam's program. We do have more material to come along with some refinements, but our concept works with a pretty tough teaching situation. With a motivated teacher, anything is possible.  Apple's e-book, branded as 'iBook', works much like a multimedia app – its users get updates as we add and improve its content based on feedback.  
But that's the business end. What really keeps us going is what our resident teacher/contributor Mary Jane Gomes said to me after witnessing these kids thriving. "Right now, just seeing those twelve kids dreaming, and creating dreams, makes it all worth while. These young new filmmakers have become our teachers."
This is why we do what we do.
---
Stavros C. Stavrides is a Film Producer/Director, Co-Founder/Publisher of Cyber Film School learning systems and Producer/Editor of Cyber Film School for iPad.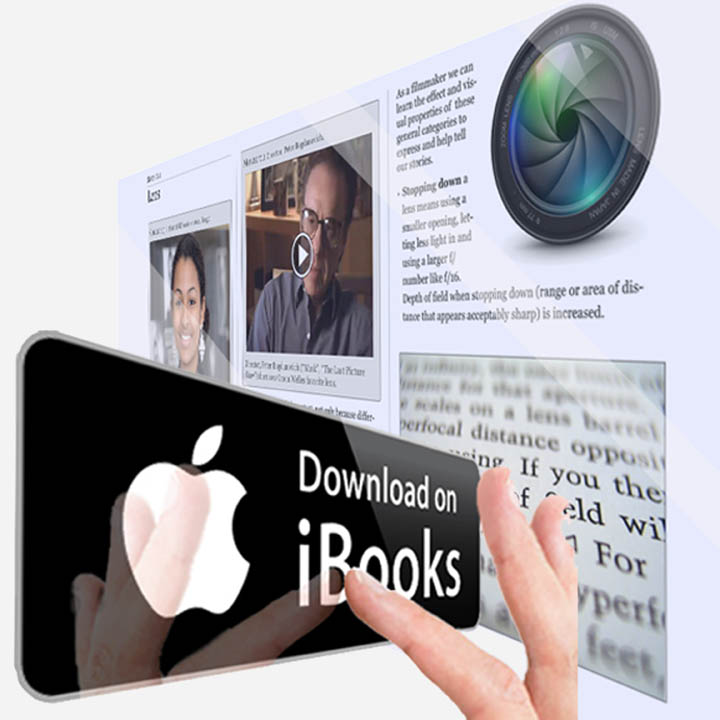 Learn & practice filmmaking essentials all on one device.
Cyber Film School for iPad.